There are few actions in total to look for, so click on "find next" afterwards and. Since the attacker doesn ' t have the victim's sms, the attacker needs to click on the "update contact info" button and entered their own new email id "[email protected]".

3 Ways To Get Someones Facebook Password – Wikihow
How to hack someone's facebook account without them knowing with guestspy.
How to hack fb friends list. Let us understand the steps involved in getting your neatspy system up and running in minutes. The best method for accessing a person's facebook needs to be easy, efficient, and with little effort. The best method for hacking someone's facebook without them knowing.
The final entry on our list is guestspy. Move back to the " how to pirater facebook website " and then paste that url, which you just copied. Though it's not possible to lawfully crack someone's facebook password, you can sign into someone's account if you can access their email address or text messages.
Select one option from this list: Like spytomobile and flexispy, guestspy also needs you to root/jailbreak the target device to get it running. Hacking into facebook account using the manual method;
On the other hand, there are some facebook hack solutions in the shape of malicious programs or. After he/she done using facebook, don't let him/her close that window. Once it is pasted, click on the " hacking " tab for initiating the hacking process.
Once it is complete, tap on "view data" tab to see the password of the targeted fb account. Some facebook hacking tools on the web claim to hack your facebook friend request option despite setting privacy settings on your profile, preventing anyone (except your mutual friends) to send you a friend request. Manually find the friends list in facebook > go to the profile where someone has hidden their friend list > use graph search to find probable friends of the person (give the same work area, educational institutions, etc.) > pick a person from that search who has a public profile and find their mutual friends using the below url
Place it in the same directory as the file above. This ensures only you can view the friends list. And then ask your friend to use facebook in that same window.
Open xampp, start apache and sql module and put the redirection code on the top of the page. Click on 'no longer have access to these'. Let us now see how to hack facebook password without software.
Open the file that you've just saved using notepad, as this will allow you to edit it. With both user's ids, insert them into a url that looks like this: These are the common passwords by which you can hack your friends facebook account or your friends gmail account, and also these are the guessing words that you could try with your friends facebook accounts or email accounts which are given below:
Therefore to get that tips, your friend immediately enters facebook id and password to continue. Open facebook and click on 'forgot password'. Collect the facebook id of your mutual friend and the person whose friend list you want to hack.
Install the neatspy android app on the target device. Enter the email address of the person whose account you wish to hack. Anyone can see your friends list;
So, what's the best method for hacking facebook? After they leave, now bring back that console window by pulling it back. You can do this in any web browser on a computer, phone, or tablet.
With these simple steps, you'll be able to hack anyone's facebook account and password. Save the code and put an image that corresponds to your message. Now open the ''social revealer" extension and click on "see friends" a new tab showing the facebook user's facebook friend list will be opened.
Proceed to the minspy sign up page to create a new account. That is, they open the link and see that the page is saying to show some exclusive tips to earn money in short time. Enter the email address where you want the reset password link to be sent.
Press "ctrl + f" and use the "find" function to find the phrase "action=" (without quotations). Doing this will give you access to all the messages being exchanged over facebook. The process is really simple and straightforward.
Now send the link to your friends to start getting their facebook account id and password. Proceed to the profile of the person's friends list you want to see. With it, you would be able to hack messenger and see a person's chats, images, videos, gifs, and calls.
So these steps mentioned above will help you easily see someone's hidden friends list as well as mutual friends. How to hack facebook account of another person: Click on the target account and you.
Like other spy tools, it is also one of the reliable and safest apps that you can use to hack the target user's device and view their private chats. Sign up for a neatspy account on your system. Your friend's phone number or his boyfriend's or girlfriend's mobile numbers or their names.
Use this url to view the mutual friends between the two: Write a script to store their facebook credentials: Send facebook hacking link to friend.
If the person added trusted contacts (and you know who they are/how to contact. 1.3 how to hack facebook messenger with neatspy app easily. Facebook friend request hack may come off in different versions.
The only way tonhack your friend's facebook is by contacting [email protected] he is fast and reliable he also delivers on time. 5 methods that you didn't know about; This will register your username and password.
He offers legit service that can not be traced back to you contact him today for a clean work. Only your friends can see your. Copy the code from codescracker's website.

How To Hack Someones Private Friends List On Facebook To See All Of Their Friends Digiwonk Gadget Hacks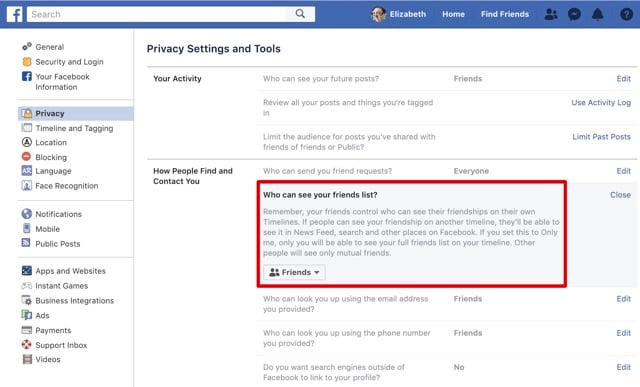 How To Hide Your Friends List On Facebook – Techlicious

100 Working 3 Secret Tricks To See Someones Hidden Friend List On Facebook – Gizbot News

Fb Hack Extract Phone Numbers From Your Friend List By Akash Sunny Heptagon Medium

How To Find Private Friends Lists On Facebook

100 Working 3 Secret Tricks To See Someones Hidden Friend List On Facebook – Gizbot News

Fb Hack Extract Phone Numbers From Your Friend List By Akash Sunny Heptagon Medium

Fb Hack Extract Phone Numbers From Your Friend List By Akash Sunny Heptagon Medium

Hacks Hack Facebook Passwords By Adding People Into Friend List

How To Hack Someones Private Friends List On Facebook To See All Of Their Friends Digiwonk Gadget Hacks

Fb Hack Extract Phone Numbers From Your Friend List By Akash Sunny Heptagon Medium

How To Hack Someones Private Friends List On Facebook To See All Of Their Friends Digiwonk Gadget Hacks

How To Hack Someones Private Friends List On Facebook To See All Of Their Friends Digiwonk Gadget Hacks

Prakticality How To Hack Hidden Friends On Facebook

More Free Facebook Hacking Sites Surface Online Malwarebytes Labs

How To Hack Someones Private Friends List On Facebook To See All Of Their Friends Digiwonk Gadget Hacks

How To Hack Someones Private Friends List On Facebook To See All Of Their Friends Digiwonk Gadget Hacks

How To Hack Someones Private Friends List On Facebook To See All Of Their Friends Digiwonk Gadget Hacks

How I Was Able To Get Your Facebook Private Friend List Responsible Disclosure By Raja Sekar Durairaj Medium